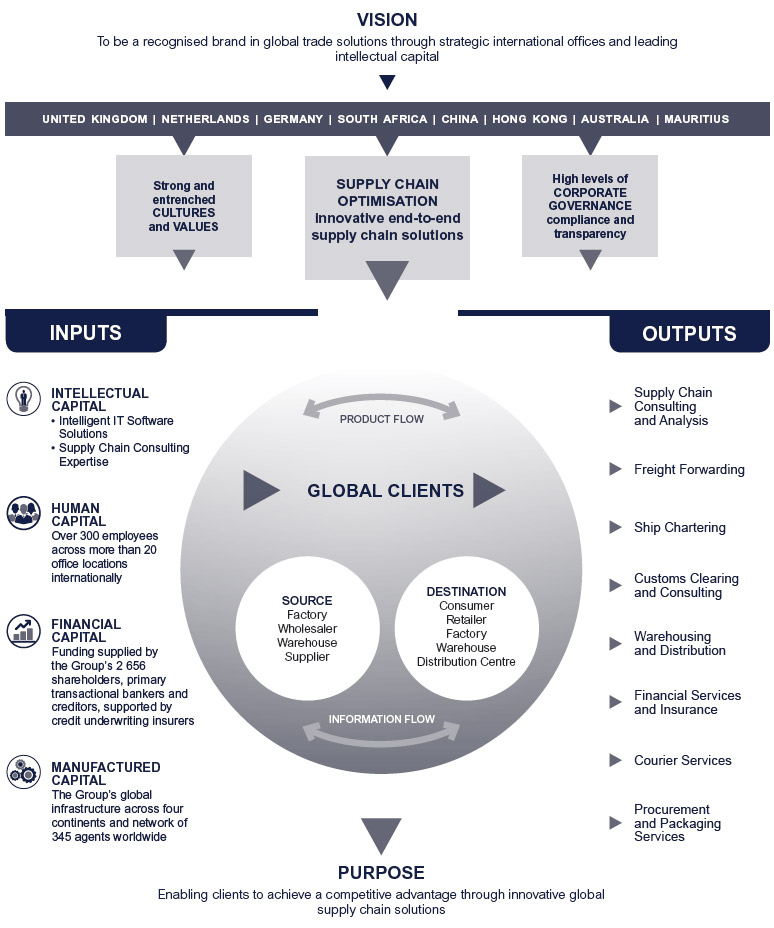 GROUP PROFILE
Santova is a specialist international trade solutions business listed on the South African stock exchange with offices throughout South Africa, Mauritius, Australia, Germany, Netherlands, United Kingdom, Hong Kong, Singapore and Mainland China.
The Groups strategy is to continually develop and invest in key differentiators that set it apart from its competitors. This is achieved by offering select clients comprehensive supply chain solutions that enable them to achieve a competitive advantage through multi-dimensional innovative global supply chain solutions.
As companies continue seeking worldwide sourcing and distributing products in multiple markets, they require extensive sophisticated operational and logistics solutions across geographies. Through being extremely client-centric in its approach, Santova is able to capitalise on its international offices, systems and processes and leverage off a borderless and integrated world economy which is driven by globalisation and technological advancements.
International – Cross Border – Trade Solutions
Supply Chain Solutions
The design, planning, implementation, coordinating, controlling and monitoring of the integration and management of interdependent supply chain activities and global intellectual capital with the objective of enhancing further differentiation from competitors through the alignment of business strategy with supply chain optimisation.
Business Intelligence
We empower our clients by unlocking supply chain data and facilitating transparency through unrivalled electronic tools which enables the strategic optimisation of the businesses supply chain. Our 'virtual' client–centric information systems accommodate client specific requests and adaptations to the software which allow interface with client systems. The result being global end-to-end inventory/order management and data interchange which offers a lot more than 'typical' track and trace services.
Logistic Services
The planning, coordinating implementation, and controlling the efficient, effective forward and reverse flow and storage of goods, services and related information between the point of origin and the point of consumption in order to meet customers' requirements.
Client Sourcing and Procurement Management Services
At the request of our client, we assist in the sourcing and procurement of goods, services or works from an external source. Our focus would be that they are procured at the best possible cost to meet the needs of the client in terms of quality and quantity, time, and location.
Express or Time Sensitive Courier Services
Santova Express is uniquely 'client-centric' in its offering and fulfils international express delivery requests on-demand, carrying out door-to-door delivery of goods, including attending to all formalities when delivering across international borders.
Financial Services
Risk solutions (short term insurance solutions) range from captive insurance products, profit share facilities, risk transfer and risk management programs to self-insurance funded facilities. This would cover commercial, domestic, marine and structured specialist once-off insurance products.
Key Differentiators
Specialist in-house supply chain intellectual capacity that:

Provides customers with access to world class supply chain solutions and systems
Adds significant value to customers through supply chain optimisation
Also ensures a high level of customer loyalty and retention

Virtual Supply Chain Management, intelligent technology and management information systems:

Interface with customer systems to ensure seamless and accurate information flow
Provide customers with web-based control, visibility and accurate real time information
Ensure a high level of customer retention by playing a pro-active role in assisting customers to manage their supply chains

An intelligent differentiated logistics strategy that:

Is unique and customer centric in terms of system, process and operational integration
Assumes responsibility for the entire supply chain, from supplier/source to the point of
consumption/consumer
Is non-asset-based allowing for total flexibility, directly driven by customer requirements, instead of by internal capability

An international infrastructure that provides:

International end-to-end supply chain services across customers' primary trade flow routes
Local representation in key trade centre's enabling seamless solutions to customers and
ensuring accountability and responsiveness
Geographical and multicurrency diversification that hedges local currency variability
The ability to duplicate logistics revenue streams at both ends of the supply chain whilst being cost and service competitive
Value proposition
Leading the market is not about converting resources to commoditised outputs anymore, it is about the application of the appropriate resources in the most effective manner to produce outputs that exceed client requirements.