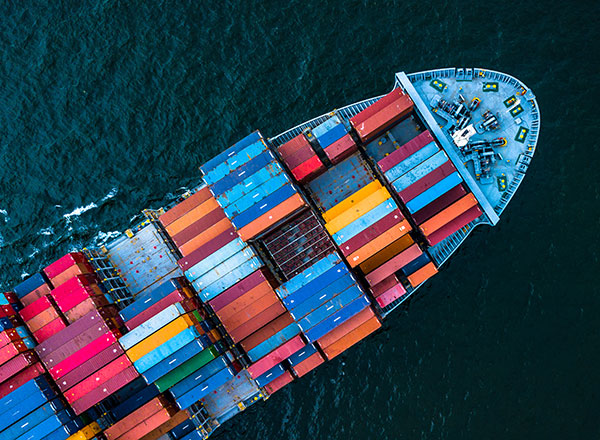 OCEAN FREIGHT
Our team of ocean freight specialists will help you find the most efficient freight solutions, either via Full Container Loads (FCL), Less than Container Loads (LCL) or any other bulk mode.
With Santova's strategic partnerships globally, alliances with leading ocean carriers and our ability to combine large volumes of cargo, we offer highly competitive pricing and services to all our customers.
Full Container Loads (FCL)
With over 15 years in the business, Santova's service ensures the most efficient transportation for our customers. An FCL is defined as one container which contains cargo for one consignee.
With a strong focus on South Africa, China, the Far East, USA, Australia and the Middle East, for import and as well as export, we have vast experience in handling various types of commodities with specific requirements.
We negotiate prices for our large combined volumes, enabling us to offer high quality services in terms of transit times, space protection and reduced number of transshipments.
With collect and as well prepaid contracts with carriers of all 3 alliances, like MSK, MSC, OOCL, EMC, YML, ONE, HMM, we are able to offer you the best prices and options which fit your specific needs.
Less Container Loads (LCL)
For customers with smaller shipments, Santova offers Less than Container Load (LCL) service, where shippers are only required to pay for the space and weight occupied. We offer weekly arrival/departures from and to all major ports in the world.
Using our freight consolidation expertise and offices globally, we can provide you with reliable performance and lower costs with the additional benefit of the same lead time as using our FCL service.
With a combination of our fully owned controlled LCL boxes and our strategic LCL partnership, we are able to offer weekly services from all main ports of China and USA to Rotterdam and from Rotterdam to South Africa, USA and China,
We are able to offer you very competitive prices together with shorter lead times in handling and delivery.
Call Santova today to learn more about our specific products so you can choose the most suitable service level for your specific needs
Collect and prepaid contracts with the major carries of all 3 alliances, with a total volume of 100.000 TEU+

Strongly focused on South Africa, China, Far East, USA, Australia and Middle East
Wine Specialist from Africa, South America and Australia

Own LCL import consolidation boxes from China and the USA to the Netherlands

Own LCL export consolidation boxes from the Netherlands to South Africa, China and USA